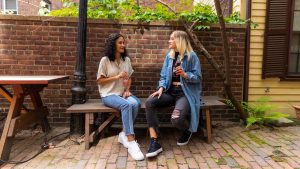 There are risks to the abortion pill process, and there are even more potential risks to your health when ordering the abortion pill online. Though it may seem like the most convenient option, ordering the abortion pill online could be a risk to your health for the following reasons:

Complications due to mixing with current medications you're on

Low-quality abortion pills due to non-reputable source 

Lack of medical oversight & instruction 

Undetected pregnancy complications (such as ectopic pregnancy or miscarriage)
Why Speak to a Medical Professional?
Discussing the abortion pill process with a medical professional you trust is important to confirm if the abortion pill is for you. The Mayo Clinic shares conditions that do not qualify a woman to use the abortion pill, including if you:
Are too far along in your pregnancy

Have an (IUD) 

Have a suspected ectopic pregnancy

Have certain medical conditions

Take certain medicines

Can't receive follow-up or emergency care

Have an allergy to the medications used
There are more than 200 medications not recommended to use with Mifepristone (the first drug in the abortion pill process). Protect your health by confirming these details and determining if the abortion pill will not interact well with the medications you're on. 
Why The Source Matters
The abortion pill is not something to order from anywhere since strict guidelines should be followed. The medications should be checked for accuracy by a qualified pharmacist and meet pharmaceutical standards in the drug's country of origin.
The FDA states, "Medicine bought over the Internet from foreign sources, from storefront businesses that offer to buy foreign medicine for you, or during trips outside the United States may not be safe or effective."
Often, women who seek drugs from outside the country do not know who is behind their medication prescription. For your health and safety, it's vital to know where the medications came from.
We're Here to Help
Confirming your pregnancy details is important to protect your health. Before taking the abortion pill, receive our free and confidential pregnancy testing and ultrasounds (case-by-case basis) so you can be sure of how far along you are and if you have any potential complications. 
In the event of a positive test, we can provide financial assistance that can help you. To qualify for financial assistance, you will need to come in and talk to one of our counselors. We're here for you!