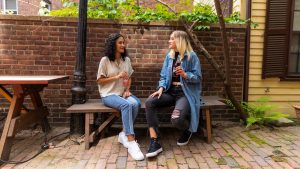 While Scandinavian and Nordic countries use the abortion pill in the second trimester, it is only FDA-approved up to ten weeks (70 days) gestation in the United States. 
Pregnancy confirmation is needed to know if you're eligible for the abortion pill based on how far along you are and the health of your pregnancy.
How Does the Abortion Pill Work? 
The abortion pill, also known as medical abortion, is a series of two drugs. Mifepristone, the first drug, prevents the pregnancy from receiving progesterone, an essential pregnancy hormone. The lack of progesterone weakens the uterine lining and makes the uterus inhospitable to the fetus, thus terminating the pregnancy.
Misoprostol, the second drug, forces the uterus to contract and empty the womb of all pregnancy-related tissues.
Here is a list of potential risks from the Mayo Clinic for the abortion pill: 
Incomplete abortion, which may need to be followed by surgical abortion

Heavy and prolonged bleeding

Infection

Fever

Digestive system discomfort
Am I Eligible for the Abortion Pill?
To determine if you are eligible for the abortion pill, you will need to confirm your pregnancy with an ultrasound to verify how far along your pregnancy is. The abortion pill is only recommended for women up to 10 weeks pregnant.
An ultrasound will also confirm the location of the pregnancy and if you are experiencing an ectopic pregnancy. An ectopic pregnancy is when the pregnancy grows outside the uterus and it can be life-threatening if not treated right away. The abortion pill will not terminate this type of pregnancy, and other medical treatment will be needed.
Reasons You May Not Be Eligible
According to the Mayo Clinic, medical abortion isn't an option if you:
Are too far along in your pregnancy. You shouldn't attempt a medical abortion if you've been pregnant for more than ten weeks (after the start of your last period). 

Have an intrauterine device (IUD) currently in place.

Have a suspected ectopic pregnancy.

Have medical conditions including bleeding disorders, certain heart or blood vessel diseases, severe liver, kidney, or lung disease, or an uncontrolled seizure disorder.

Take a blood thinner or certain steroid medicines.

Can't make follow-up visits to your provider or don't have access to emergency care.

Have an allergy to the medicine used.
Next Steps
If you're advancing into the last part of the first trimester and are still considering your different options, the best next step is to schedule an ultrasound. 
Getting an ultrasound will confirm the exact age of your pregnancy and ensure the pregnancy is still viable (20% of known pregnancies end in natural miscarriage). 
Make sure you have verified your pregnancy with a free pregnancy test and free limited ultrasound at A Choice for Women. Schedule an appointment with us today.
In the event of a positive test, we can provide financial assistance to help you. Schedule an appointment with one of our counselors to qualify.